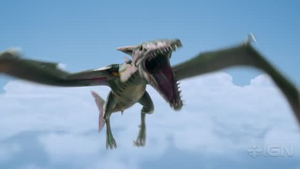 After failing with Sharktopus, the U.S. military creates a pterodactyl/barracuda hybrid called Pteracuda but when they lose control of it; it's up to Sharktopus' child to stop it.
Appearance
It has the body, wings and legs of a pterodactyl and the head and tail of a barracuda.
Kills
Amanda Philipson
One unnamed person
Four unnamed person
One unnamed person
One unnamed person
Eight person in plane
Three unnamed person
Dr. Lux
Dr. Rico Symes (With Sharktopus)
Ad blocker interference detected!
Wikia is a free-to-use site that makes money from advertising. We have a modified experience for viewers using ad blockers

Wikia is not accessible if you've made further modifications. Remove the custom ad blocker rule(s) and the page will load as expected.