Home
Talk

11
484pages on
this wiki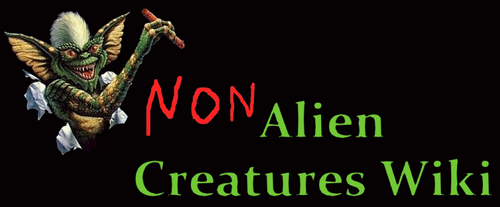 About
Welcome to Non-alien Creatures Wiki, or NAC (acronym), an online database of beings from cryptozoology, works of fiction, video games, folklore, and even pop-culture. As long as it isn't an alien, it's here. Non-alien is a term created by us (see NAC: Editing).
We are a small but growing wiki. Want to help? Then take a look at the information below:
Helping Out
Use this when creating creature pages: Template:Creatures.
Use this when creating specific character pages: Template:Characters.
Use this when creating substance pages: Template:Substances.
Use this when creating object pages: Template:Objects.
To write a new article, just enter the article title in the box below.
Featured Article
Sakuradite is a rare mineral found in the anime series Code Geass: Lelouch of the Rebellion and its spin-offs.
Sakuradite in its rawest form is one of the most dangerous materials in the world. A piece of ore about the size of someone's palm, when tapped together with another piece, can generate massive explosion.
Described as the "philosopher's stone", it was first discovered near Stonehenge at some time during the Middle Ages. Marco Polo would later journey to Japan and discover large deposits of the mineral. After Sakuradite became valuable as a superconductor, Japan would become a primary exporter of the material, and produces about 70% of the world's supply to this day. It is somewhat responsible for the advance of later technology in Code Geass' universe.
Prior to its invasion and occupation by the Britannian Empire, Japan used its position as the world's primary exporter of the mineral as a bargaining chip to exploit consumer nations and increase its own revenue. This eventually...Read More
Featured Image
The map created for the 2005 King Kong film, showing the home of the creatures of King Kong, Skull Island.