Crash Bandicoot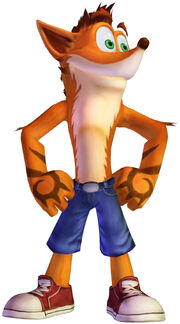 is the primary protagonist of the Crash Bandicoot series and was originally named Willy Wombat. He is a genetically-advanced
Eastern Barred Bandicoot
who lives the life on N. Sanity Island. Throughout the series, Doctor Neo Cortex is to be his usual arch-enemy, and defeats him in to put his life back in order. Crash is often accompanied by his ally
Aku Aku
.

Crash is first seen in Doctor Neo Cortex's and Doctor Nitrus Brio's lab. He was created by them with the Evolvo-Ray, but of course, Cortex considered him a failure due to his kind nature, resulting in Cortex chasing Crash out of the castle.
Ad blocker interference detected!
Wikia is a free-to-use site that makes money from advertising. We have a modified experience for viewers using ad blockers

Wikia is not accessible if you've made further modifications. Remove the custom ad blocker rule(s) and the page will load as expected.