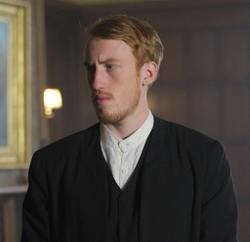 Atlee is a vampire character from Being Human. He is one of the few surviving members of "The Dutch" (as he was not present at their slaughter), an ancient order of orthodox elder vampires who make their home base in Pennsylvannia among the Amish people (most of them were slaughtered by James Bishop in his attempts to create a vampire master race).
Atlee's age is unknown but like the other members of The Dutch he is probably at least a thousand years old. He attempted to avenge Heggeman's death at the hands of Nora's wolf in "The Ties That Blind" and proved to be a coward, leaving Aidan to fight off four werewolves by himself. Aidan later presented Connor McLean's werewolf corpse to Atlee and told him to take it back to the other members of The Dutch and not to return to Boston.
Ad blocker interference detected!
Wikia is a free-to-use site that makes money from advertising. We have a modified experience for viewers using ad blockers

Wikia is not accessible if you've made further modifications. Remove the custom ad blocker rule(s) and the page will load as expected.