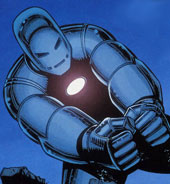 Anthony is a vampire character from Ultimate Comics: Avengers 3.
History
The "greatest vampire hunter" and the trainer of both Matt Murdock and Eric Brooks, who would become later Daredevil and Blade respectively. When he was later bitten by a vampire and turned into one of them he become the leader of a group of vampires, and used an Iron Man Mark I armor to survive sunlight. After he turned Nerd Hulk into a vampire and was killed by him (as he wanted to be the new leader of the group) his armor was then worn by Stick.
Ad blocker interference detected!
Wikia is a free-to-use site that makes money from advertising. We have a modified experience for viewers using ad blockers

Wikia is not accessible if you've made further modifications. Remove the custom ad blocker rule(s) and the page will load as expected.