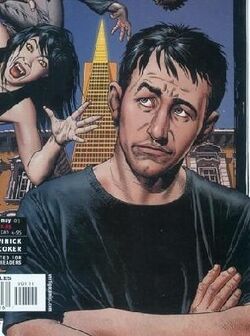 Adam Heller is the star of the 2003 Vertigo mini-series, Blood + Water (a.k.a. Blood and Water), by Judd Winick and Tomm Coker. At the beginning of the series its revealed that Adam has Hepatitis A and, as he finds out, a hepatoma on his liver that will kill him in little time.
It's at this point that his best friend of the past five years, Josh, and his girlfriend Nicky, reveal that they are vampires and want to turn Adam into a vampire too, so that he wouldn't die. Adam agrees, and for awhile, there is a lot of good humor to be found in his reactions to his new form and powers. However, as it turns out, Adam was no regular human, but actually a sort of special vampire, and as a result of his "awakening," a long dormant evil vampire is back and ready to kill a lot of people to get Adam.
Ad blocker interference detected!
Wikia is a free-to-use site that makes money from advertising. We have a modified experience for viewers using ad blockers

Wikia is not accessible if you've made further modifications. Remove the custom ad blocker rule(s) and the page will load as expected.